Smart Solutions has a team of skilled and dedicated preferred service providers, who have specific interest and experience in working with adults with significant and permanent disability and seniors with a variety of health needs. Smart Solutions OT's are handpicked because of their passion and dedication to their chosen profession and their commitment to people and the local community.
All OT's provide service under the management of Regina Heffernan, the Director and Principal OT.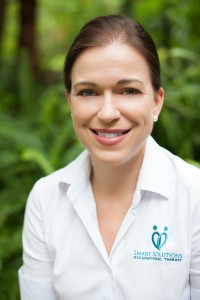 Regina Heffernan (Director/Principal Occupational Therapist)
B.Occ Thy, Adv Dip Counselling
Smart Solutions was formally registered in 2007 by Regina Heffernan the current Director. Regina has had a passion for community work since early on in her practising career and has worked as a private practitioner in some capacity for over 15 years.
Regina graduated from the University of Queensland in 1997 and gained early experience as an OT working in a number of rural locations across QLD in a variety of hospital and community health settings. Regina gained valuable knowledge and skills during these years in regard to a range of medical and surgical conditions and the health and disability sector. Most notably, during this time Regina spent 3 years managing the Rehabilitation Ward at Bundaberg Base Hospital.
Regina relocated to the Sunshine Coast in 2003 for an employment opportunity in line with her love for people and passion to see individuals live happy and full lives. This led Regina to completing an Advanced Diploma in Counselling and Family Therapy in 2006 to support her existing clinical skills.
Regina's main interest area and skills are in Neurological conditions and Major Home Modifications. Since qualifying as an OT, Regina has focused on honing her abilities in these areas and has completed numerous professional development courses. Regina's primarily clinical role at present is as the sole Occupational Therapy consultant to the Sunshine Coast Home Modifications Scheme. Regina has been doing this since 2007 and continues to provide these services on a weekly basis.
If you are interested in joining our team, you can find more details on our Careers page.